Intensive Workshop—Tuesdays for 10 Weeks beginning Sept. 26, 2023 at 6:00pm CDT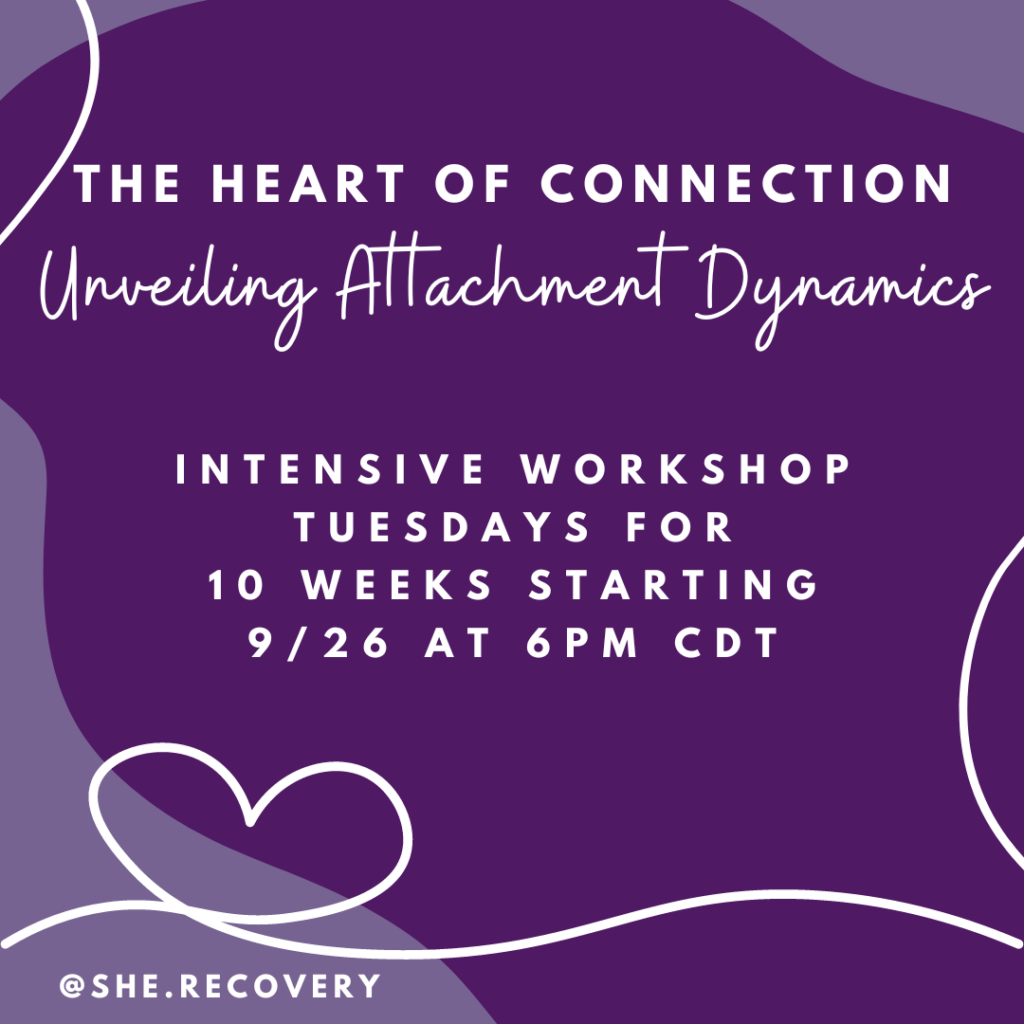 At the core of how we relate to others and how we interpret the actions and words of others towards us is called our Attachment Style: the relational dynamics we learned early on in childhood that color how we operate socially throughout the life span.
This 10-week intensive workshop, facilitated by Clinical Mental Health Therapist Janine Deal, takes a closer look at what our attachment styles are, and how they show up in different areas of our lives, including our romantic and platonic relationships, sexual health, faith, and relationship to self.
With a mixture of psychoeducation alongside guided self-reflection and group discussion/processing, this intensive will equip each attendee with the necessary skills to make long-lasting, healthy changes in their important relationships. These changes can lead to more secure, emotionally intimate bonds—a crucial building block for mental, emotional, spiritual, and physical health!
What's Included:
(10) 90-minute weekly group sessions (virtual) with Janine
(1) 45-minute individual counseling session with Janine (Telehealth)
PDF download of group curriculum / homework questions
*While the intensive includes (1) individual counseling session with Janine for the participant, additional counseling sessions may be scheduled with Janine at her standard rate.
Intensive Modules 
Module I (Week 1/2): Attachment Research and The Importance of Attachment in Childhood
Module II (Week 3/4): The 4 Attachment Styles, Explored
Module III (Week 5/6): How Attachment Shows Up Throughout the Lifespan
Module IV (Week 7/8): Approaching Adult Relationships (romantic and platonic) through a Secure Attachment Lens
Module V (Week 9/10): Attachment and Sexual Health: How Arousal Templates and Communication Styles are informed by Attachment Wounds
Enrollment and Payment Details
The total for this 10-week intensive group is $800 with payment plans available.
Payment plans include a weekly option of $80 per week for 9 weeks ($80 due at enrollment for week 1) OR a bi-weekly option of $160 every 2 weeks ($160 due at enrollment). The fee covers all the aforementioned. If pay in full is selected, the total of $800 will be charged upon submission. Refunds are not provided unless extenuating circumstances apply.