Cue the Pomp & Circumstance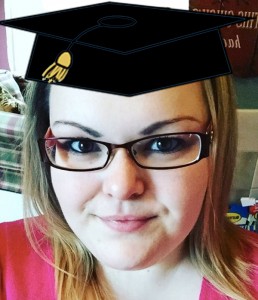 I wanted to take just a moment to share with you about something pretty big happening in my life this week. I am graduating from Liberty University with a Bachelors of Science in Psychology degree: emphasis in addiction & recovery. At the age of 31, this is my first degree, but it has certainly been a long time coming.
In February 2009 at the age of 25, I founded Dirty Girls Ministries (DGM) out of my own experiences of overcoming pornography addiction and to provide a space for women to come clean and be made whole. We officially became a 501c3 organization in June of 2010. What started as a blog and online forum for a few dozen women, has now become a flourishing online community to over 2,700 women.
In early 2011, when my book Dirty Girls Come Clean was released, I left my career at a local church, where I worked full-time for 7 years in communications, in order to pursue DGM full-time. Six months later, I prayerfully returned to school.
Going back to school was never my plan (I had previously quit college at the age of 19 with a GPA of 1.9), but God had other plans for me. I felt a burden to increase my knowledge of addiction issues and to better support my calling in ministry—and the women He has brought under our care. But it hasn't been an easy road. Due to my ill-attempt at college the first time, I had to start from scratch—beginning with general education courses at community college so I could transfer to Liberty with a GPA high enough to be accepted. After a year, I was accepted and transferred to Liberty with a 2.1 GPA in Fall of 2012.
In my first semester at Liberty in the fall of 2012, I lost two grandparents within 11 days of each other. My maternal grandpa unexpectedly (October 22) and paternal grandmother from complications of dementia (October 31). Due to the emotional repercussions of these events along with the travel and missing school, I had to drop two courses right off the bat. It was not a promising beginning to my college career at Liberty, but through God's faithfulness, I was able to persevere in the semesters and years to follow.   
Between difficult courses, numerous ups and downs in ministry, tremendous financial strain both personally and in ministry, walking my best friend through breast cancer, and of course, the loss of loved ones, including a third grandparent just this past February, the last 5 years have no doubt been the hardest of my life. However, through all of this: the good, the bad, and the ugly, I have truly learned the meaning of surrender and that God can be trusted with the big things as well as the small things… and in that way… they have also been the most rewarding years of my life. 
Since 2012, DGM under my leadership has planned and executed three conferences: one in Kansas (2012), one in Maryland (2015), and one exclusively online (2013) with over 1,600 women in attendance in total. In 2014, I wrote 90 Days to Wholeness: a 90-Day devotional to help women walk through the 5 steps outlined in Dirty Girls Come Clean. To date, over 500 women have worked through this daily, email devotional and it is now available as an ebook on Amazon for Kindle. In January of 2016, we launched a weekly prayer call, Whole Women Prayer Call, in which women can call into our free conference line to engage in a time of biblical application, accountability, and prayer. 
While faithfully serving DGM full-time, studying as a full-time student, and working part-time since 2011 to support myself, I am finally graduating and amazingly… Summa Cum Laude with a 3.96 GPA (just one measly B!). Putting an end to this first, very long chapter. I have also been accepted into Liberty's Master of Arts in Pastoral Counseling program beginning this fall which will only solidify the credibility and service that we can provide.
In order for DGM and myself to continue pursuing God's call to reach those that are far from Him, we are praying for God to raise up additional members of our support team. Would you prayerfully consider becoming part of our team by supporting DGM with a one-time or monthly tax-deductible donation OR perhaps a special donation to the director fund which specifically supports me?
Thank you to all who have walked this journey with me. Your prayers and your encouragement were sometimes the only things that kept me going. It is my prayer that I can rely on you to go on this next journey with me as well.
Blessings & Love,
Crystal Renaud