Recovery Meeting & Prayer Call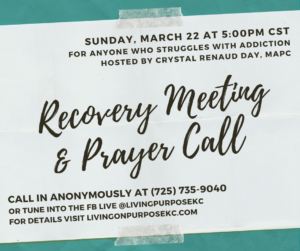 As it has been said by so many by now, we are living in unprecedented times. The Covid-19 crisis has impacted all of us and is projected to continue for a while longer. It occurred to me that with social distancing and group gatherings limited to no more than 10, many people in recovery will no longer be able to attend their in-person support group meetings (Celebrate Recovery, SA, AA, etc.). For others, the anxiety, stress, and fear of present circumstances are enough to send them back to negative behavioral patterns.
Now more than ever, we need the encouragement and support of recovery community. Whether you struggle with an addiction or compulsion toward pornography, alcohol, food, or (fill in the blank), I want to invite you to join me for a Recovery Meeting & Prayer Call on Sunday, March 22 at 5:00pm CST.
This will be a time to reset, regroup, and recommit to sobriety but will also be a time to pray together for our country, our world, and for the eradication of this virus in Jesus' name. Now is the time for revival. All woman and men are welcome to attend this meeting and prayer call. You also do not have to be in addiction to participant. And please share! 
No cost. No registration required. Just dial in anonymously by calling (725) 735-9040 or tune into the Facebook Live on the Living on Purpose Facebook page on Sunday, March 22 at 5:00pm CST.
---