The Fraudulent Waters of Baptism
When I was in the throes of my addiction to pornography, it was very important to me that I appeared like I had everything together. That my life wasn't run by my flesh, but that I loved God so much that every move I made and every word I spoke reflected Him. But in striving to do this, I skipped steps of faith and even lied to keep up the appearance.
Take my baptism, for example.
I was fifteen years old and had just started attending a new church with my mom. I found myself at youth group at the invitation of a high school friend where the message of the evening was about baptism. It was your typical baptism talk on how the next step for a believer was to publicly profess their faith decision.
But what I heard was if I did this baptism thingy, then it would prove that I was who I was pretending to be.
I believe it's important to mention that at this point, I hadn't even exactly accepted Jesus into my heart yet. I had heard a lot about Him growing up and made a "decision" of a sorts when I was 8 years old with the help of some peer pressure. Whether I was really "saved" or not, I certainly did not have a relationship with Him. If I did at all, it was one-sided—He was pursuing me while I was walking further and further away.
At the end of the message, it was asked if anyone was interested in getting baptized because they were holding them the next week. I raised my hand and following the service I got to have a whole long talk about it.
There was no real confession of faith and there was certainly no confession of addiction. Lots of assumptions about me, mixed with deception.
So before I knew it, there I was sporting my dark t-shirt and shorts, climbing into the "Jacuzzi for Jesus" for an indoor baptism in front of the entire congregation. Again, I had just started attending this church so I didn't know anyone in the crowd accept for my mom. When the pastor asked me with joy and hope in his eyes, "Crystal, do you accept Jesus as your Lord and Savior?" … I said yes (at this point there was no turning back in my mind) and was dunked in the name of Father, Son and Holy Spirit.
When I came out of those waters, I didn't feel cleansed. I felt dirty. I felt shame. I felt like a fraud. But as far as anyone else in the room knew, including my mom, I was made new and that baptism was the outward sign.
None of this is something that I am proud of and writing it down seems to make it all somehow more true. But there's a purpose for it.
It would be over a year after my "baptism" that I truly accepted Jesus as the Lord of my life while at summer camp—in a moment that wasn't marked by fanfare and celebration, but in an intimate moment between myself and God. I wasn't freed from pornography in that moment, but I knew God was real, that He loved me and that He died for me. Every bit of me.
Since finally coming to recovery and true surrender to Christ over 10 years ago now, I have often thought back on my baptism. There were a lot of lies told during my addiction, but for your baptism to be cloaked in them is pretty significant. I have beaten myself up for it and have contemplated getting re-baptized (if that's a thing) several times. Even as recently as a couple of years ago.
But just as the act of baptism is an outward expression of a life changed by the death and resurrection of Jesus Christ, it also symbolizes our sins as being washed clean through the death and resurrection of Jesus Christ.
I was severely flawed in those waters 14+ years ago, but I believe the same God who died for my sexual sin, also died for the lies I used to cover it. And if He can forgive me for that, then I can forgive myself.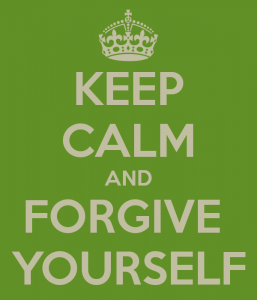 I need no longer stand in condemnation of myself.
And if you're here today and struggling with a piece of your past, please know that you're not alone. Most of us have things in our past that we're not proud of and wish we could take back. But the past is yesterday's problem and today, my friend, if you have sought God's forgiveness for it, then you are forgiven. Period.
"Repent, then, and turn to God, so that your sins may be wiped out,
that times of refreshing may come from the Lord." Acts 3:19